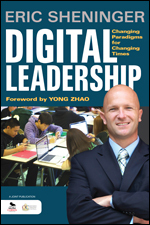 Last night the Principalcast crew interviewed Eric Sheninger about his book Digital Leadership: Changing Paradigms for Changing Times. What an interview!
Even though Eric admitted to us that he was up way past his bedtime (usually in bed by 8 or 8:30) he was as energetic as ever. We asked Eric a series of questions for the new or soon to be connected educator, and he answered them with such passion. He is committed to helping new educators become more connected. He said that becoming connected will help their class, their school, and their district transition to a 21st century experience.
Throughout the podcast, Eric mentioned how Social Media is more about the people then it is the devices. He feels that free tools such as twitter are essential in connecting to "smart people" and that it becomes easy to learn from them. Eric reminded us a few times throughout the podcast that if it were not for people who came before him, that he wouldn't be where he is today.
Our live audience asked several interesting questions that allowed Eric to expound upon the pillars of digital leadership. According to Eric, the pillars of digital leadership are the same pillars to any effective leadership. In fact, he said they are really one in the same. We simply have new tools to collaborate.
I will post the podcast once it is up on you tube and itunes, but I had to reflect upon this experience as soon as it was over. Here are my 5 takeaways from our podcast with Eric:
1. You never stop learning
2. The principal needs to provide time for teachers to collaborate
3. Never mandate use of social media or technology – Just provide the incentive
4. Focus your social media efforts to make your school and community better
5. If you don't know an answer, ask someone from your PLN
Thanks again to my awesome co-hosts Theresa Stager, Jessica Johnson and our wonderful producer Jeff Bradbury!