Presentations
Dr. Cook has been in the educational community since 1999. He has been employed as a teacher, counselor, director, vice principal, and principal in both K-12 and higher education.
Dr. Cook has presented at the National Conferences for ASCD and NAESP. He was the Keynote Speaker at Millville Public School's Opening Day Extravaganza and Rowan University's Convocation. He has presented at New Jersey School Board Conference, EIRC's Summer Institute,  Delsea Regional School District Professional Development Program, Edscape 2012, and the Texas ASCD Conference.
For more information about contacting Dr. Cook for Professional Development, drspikecook@gmail.com
Chromebooks and Common Core Summit 
November 3, 2014
Connected Leadership
In this session, participants will learn of the many useful tools that will help them lead their classroom, school, or district. By the end of the session, participants will be able to easily implement these tools and maximize their 21st century learning.
November 12, 2014
Connected Leadership: It's a Click Away
November 15, 2014
Growth Mindset in your Personal and Professional World
Knapp Elementary School, Pennsylvania
November 23, 2014
Connected Leadership: It's a Click Away
Linwood Middle School, Linwood, NJ
Previous Presentations: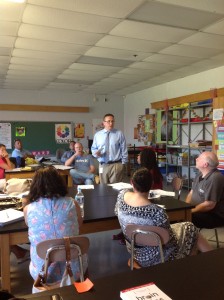 NJPSA/FEA/NJASCD State Conference
October 16 and 17
Social Medial Lounge Co-Facilitator with Brad Currie
Long Branch, NJ
Social Justice & Cultural Competence Conference
Sept. 27, 2014
Presenter, Exploring the concept of White Privilege
Rowan University, Glassboro, NJ
Elevating and Celebrating Effective Teachers and Teaching
September 13, 14, 2014
Keynote Presenter
Raritan Valley Community College, Branchburg, NJ
August 7, 2014
Connected Leadership: Maximizing Your Leadership with Devices
Galloway Middle School, Galloway, NJ
August 4, 2014
Corwin Connected Educators Panel
2014 Reform Symposium E-Conference
July 12, 2014 (3:00 EST)
Panelist, Revolutionize Your Classroom By Producing Mind-Blowing Media
2013 Millville School District Opening Day Extravaganza
September, 3, 2013
Keynote Address: Why we need to Innovate 
Performing Arts Center, Millville, NJ
2013 Summer Principal's Institute
The Annual Summer Institute for Principals and Supervisors, July 15, 2013
Paradigm Shift: The Principal's Evolving Role as Instructonal Leader
Rowan University, Glassboro, NJ
National Association of Elementary School Principal's Annual Conference 
With Dr. Pamm Moore, Mrs. Celese Nolan and Mr. Ryan Hudson
"Transforming Schools Through Powerful and Systematic Walkthroughs" for a concurrent session at NAESP's 2013 Annual Conference, July 11-13, 2013, in Baltimore, Maryland.
ASCD 2013, Chicago, IL
http://www.ascd.org/annual-conference.aspx
SESSION NUMBER: 1213
DAY and DATE OF SESSION: Saturday, March 16, 2013
TIME: 1:00 -2:30pm
PRESENTER: Spike Cook
AFFILIATION(S): S. Cook, C. Nolan, R. Hudson, J. Sutton, Millville Public Schools, Millville, NJ
SESSION TITLE: How Does Our teaching garden grow? Oh, It's bloom-ing through classroom instruction that works!
SESSION DESCRIPTION: Learn from the elementary educators highlighted in ASCD/ McRel's  new video series. This presentation will focus on the driving force of Classroom Instruction That Works 2nd edition to achieve a world-class school that is centered on a rigorous and data rich 21st Century learning environment. Participants will learn how the Nine Research-Based Strategies are essential in improving student performance and sustaining growth within an urban setting.  Lastly, the goal of the workshop is for observers to proceed with the necessary tools and strategies for their learning garden to grow!
EDUCON 2013
January 26, 2013
with Danielle Hartman and Dana Sirotiak
Disruptive Innovation
The main idea of this conversation is the impact of disruptive innovations on education. What are the technologies impacting and changing education today? What are the sustaining innovations that are improving the pedagogical process?Disruptive technologies, or innovations, are innovations that create a new market. They are disruptive because they are innovations the markets did not expect. Sustaining innovations, on the other hand, are improvements to existing technologies. They cater to high end customers who demand better performance than previously existed.We will be discussing the difference between disruptive and sustaining innovations. First we will identify in which category innovations belong, then we will discuss which has more impact on education.
Conversational Practice:We will be using a text based seminar format for our conversation.
New Jersey Association of School Administrators
January 31 – February 14
With Bill Krakower
Interstate Communication through Web 2.0 Tools
Date: November 15, 2012
Time: 5:00 PM EST
Title:  "I was just like you: My Leadership 2.0 Journey"
Description: Dr. Spike C. Cook, principal, RM Bacon Elementary School, Millville, NJ will discuss his transition into becoming a connected administrator.  Dr. Cook, who's school was facing three years of declining assessment scores prior to his arrival, has rejuvenated a school community through his untiring focus on 21st century skills and a Leadership 2.0 philosophy. His school is over 80% free and reduced lunch, but despite that under his leadership this past year and half, the school improved in both math and LAL test results. In addition, he was instrumental in developing a school blog, Facebook, and twitter account to better communicate with parents and teachers. He has influenced over 50% of his staff to use twitter for PD. Dr. Cook will discuss his "Tech Fridays" a voluntary professional development initiative including teachers and students in an "un" conference setting. Dr. Cook will also discuss how he felt it was the technology integration that garnered the selection of his school for the ASCD/McREL film series for Classroom Instruction That Works second edition. As Dr. Cook shares his story, he will elaborate on how he was just like everybody else while making connections to the foundational elements and concepts of Leadership 2.0.
Haddonfield School District 
Date: November 5, 2012
Time: 12:30 PM – 3:00 PM
Going Global with Social Media, Web 2.0, and Project Based Learning
Dr. Spike C. Cook, Principal, RM Bacon Elementary
This workshop will be focused on how Project Based Learning (PBL) activities can be enhanced with social media and web 2.0 tools in order to transform students into Global Ambassadors. In addition, participants will work collaboratively to utilize the Web 2.0 tools, PBL, and be able to walk away with resources necessary to transform their classroom into a global, 21st century learning environment. Since there will be no handouts for this session, participants will be encouraged to access a presenter-developed website during and after the presentation. Participants are encouraged to bring their own technology, and learning devices.
Going Global: Taking your Classroom Worldwide
Preview:

Presented by: Spike C. Cook, Ed.D.; Alicia Discepola, Millville Public School District
This workshop will be focused on ways in which Project Based Learning activities have transformed elementary students into Global Ambassadors. Participants will be provided with free web 2.0 tools to connect classrooms throughout the United States and worldwide. In addition, participants will learn best practices and walk away with tools and resources necessary to transform their elementary classroom into a global, 21st century learning environment.
2012 Texas ASCD Annual Conference, October 14 – 16, 2012
Empowering Leaders Learning Through Twitter with Tra Hall
Dallas, Texas
The Annual Summer Institute for Principals and Supervisors, August 1 -2, 2012
Using Technology Applications to Improve and Streamline Observations and Evaluations, with Dr. David Gentile
Rowan University, Glassboro, NJ
Annual Technology Showcase, Tuesday, May 30, 2012, Lakeside Middle School, Millville, NJ
School Spotlight: RM Bacon Elementary School's Technology Takeover
Room: Y124
Principal: Dr. Spike Cook
Check out RM Bacon School's blog, which has had over a thousand visitors around the world in just a couple months, and Dr. Cook's Insights Into Learning blog, which is approaching 14,000 readers across the globe! Explore how Bacon School uses social networking to enhance the educational experiences of their 21st  Century learners through Twitter, blogs, QR codes, and more. Also, learn how the teachers are learning technology from the students through special 'Tech Friday' informal professional development sessions before the school day even begins.