As an educational leader, it is important to know about yourself, as well as those you lead. The Tipping Point by Gladwell (2002) was a book that was able to bring abstract concepts of change into real world application. At the time I first read the book, I was busy preparing for my dissertation. I recently decided to revisit the book and see how it applies to my organization. I feel reading the book a second time afforded me the opportunity of going through a double-loop learning process which assisted me in making the deeper connections to the text.
The Law of the Few – Mavens, Connectors and Salespeople
The Maven
According to Gladwell, the word Maven refers to people who accumulate knowledge. Mavens, once they acquire their information, are able to provide specific detail on various aspects to life. I am married to a Maven and I work with many other Mavens.
When I first met my wife, Theresa, we played Jeopardy every night after dinner. I enjoyed the competition, but I rarely won. I can remember being struck by the depth of her knowledge on various sorts of seemingly useless facts. Every morning, Theresa watches the weather with a passion. She is also an avid grocery shopper. I have rarely seen someone study the local circulars for the weekly sales like she does. She likes to make lists. She likes to get the "best" of something or the "sale" item. Gladwell says this about Mavens, "They like to be helpers in the marketplace. They distribute coupons. They take you shopping. They go shopping for you," (62). Does this sound like you? If so, you might be a Maven.
The Mavens in education are very similar to the Mavens of the shopping world. Mavens in education tend to want to "know" every detail about something before they do it. So when a new curriculum comes out, they will tell you that they don't feel ready for it, or they need more time to find out all the information. Very rarely, if not provided enough information, will a Maven "just go with it." Mavens are planners, and you will never receive lesson plans from them late. Mavens love social media because it opens them up to more….you guessed it – INFORMATION!
The Connector
As I read the section on Connectors in Gladwell I "connected" on several levels. First, I realized that a Connector is someone who knows a lot of people. Second, I felt like Gladwell was talking to me when he described Connectors. I know I am a Connector. It happens all the time. Now it is happening online. One of the reasons why I love Twitter, Linkd-in, and blogging is because of the connections. I am amazed when I look at my ClustrMaps to see where people have visited from. I immediately think to myself, "There is another connection!" In my conversations, I generally refer to other people. For instance, when I was at a recent birthday party I met someone who was an architect. When I hear the word architect, I think of my brother-in-law, Mark. Through Mark, I have met at least five different types of architects because Mark usually hangs out with architects.
In conversations at school, I usually refer people who ask me things to other people (usually Mavens but sometimes Salespeople). I find myself saying, "I know someone who could help you." As for new things, Connectors can usually "just go with it" but they would rather talk to someone first. So if you are introducing a new curriculum, the connector would want to find other people who are using it, not read a brochure.
The Salespeople
According to Gladwell, Salespeople are effective at persuading people to purchase things. They are adept at engaging and persuading. Salespeople tend to build relationships with people and utilize subtle, often non-verbal cues to get their information across. Salespeople, if they are effective, can convince people that the item they are talking about is something that can be used. As a principal, I have salespeople contact me all the time. Someone always wants to sell me agendas, curriculum programs, T-shirts, signs, furniture and playground equipment.
My friend Keith has been a salesperson since the day I met him. He has a unique ability to build relationships with people. So it doesn't come off as selling. One day while visiting him in Florida, he took me on the road while he worked. As we went from store to store, Keith amazed me at the relationships he had with the owners. They never shied away went he entered their store; rather they welcomed him with big hugs. Depending on the person, he talked with them about their families, the news, or the stock market. He made personal connections. He was there to sell his product, but he never mentioned the product first.
In education, the salespeople are trying to sell you on something. I often listen to teachers, parents, administrators, and even students trying to "sell" me on an idea or a concept. The salespeople always think that buying something or implementing something new will make things better. Having trouble with something, we should buy this. Or if there is a need for __________ (fill in the blank) they will sell you the idea that you need to "get it."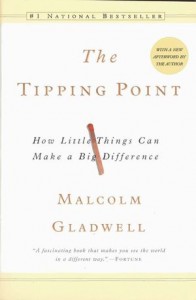 Working with Mavens, Connectors and Salespeople can be difficult. A word of caution, though, one type of person is not better then the next. In fact, we need all of them to be successful. The difference is, just like our students, each personality needs something different. We need information, people, and products in education, right? In order for it to benefit your school, you have to remember the Law of the Few, and make sure you know who you are talking with. This could make all the difference.
References
Gladwell, M. (2002). The tipping point. New York: Little, Brown and Company.
Interview with Malcolm Gladwell
http://failuremag.com/index.php/feature/article/malcolm_gladwell_the_tipping_point/
TED Talks With Malcolm Gladwell: What can we learn from spaghetti sauce: