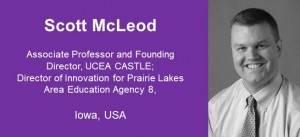 Most of you know Scott McLeod from the legendary Shift Happens videos. I can remember being at an in-service a few years back and watching Version 1. I was mesmerized. I ended up showing to to 7th and 8th graders because I thought kids needed to know how quickly the world, their world was changing… "We are preparing students for jobs that don't exist." I can honestly say that the seed that was planted by Scott ended up eventually leading me to becoming a connected educator.
I was fortunate enough to sit down with Scott as he returned from San Francisco where he purchased Google Glasses. Scott said that he rarely jumps into new technology, but with the Google Glasses he couldn't resist. He is excited about how the Google Glasses will enhance classroom instruction, observations, walkthroughs and instructional rounds. I asked him what he "saw" when he looked through… He said it looks like a computer display a few feet ahead of you.
I was joined on this skype with one of my 5th grade teachers, Ryan Hudson. Ryan and Scott hit it off immediately because Ryan is the type of teacher that Scott has created… innovative, risk taking, student centered, and grounded in 21st century instruction.
I asked Scott to talk about Shift Happens. It all started with Karl Fisch. Karl wanted to do a PD session on the changing nature of the world. All Scott did was clean up Karl's video, shorten it and put it on his blog, and it went viral.. The rest is literally history… It's been a wild run, 60 million viewers..So, I asked him if "shift" happened? He said its happening slowly…human, social, organizational factors continue to hold us back from truly shifting… Many are still not ready for it… Many are not ready for the shift!
Scott talked a great deal of the future of education. He sees a continued movement to one-to-one devices. More kids will have a device and wireless will be everywhere. In addition, Scott believes that more and more districts will realize that learning doesn't have to tied to the school day…traditional hours, but rather a more open and flexible structure.
If schools and student learning will change, I had to follow up with a question about teacher Professional Development… Scott talked about the one size fits all model for learning and if its differentiated and individualized for students, then it must be for teachers. Social media will help with this he added.
Currently, Scott is working on two rather large projects. He is doing research on connected principals and how they use social media and web 2.0 tools. With that, he is working on a checklist for principals and administrators who want to become more connected. He is leaving no stone un-turned in this research. He will be looking at job descriptions, postings and matching that with day to day responsibilities. He really wants to learn more about how technology is really being used, and how districts are documenting the process.
Scott was such a personable guy. He really took time to talk with Ryan and I. In fact, he encouraged Ryan to look at the University of Kentucky Doctoral Program that he was influential in developing. Scott said that the UK program is an excellent opportunity for educators to earn a doctorate in School Technology Leadership.

Learn from Scott:
Scott McLeod's website
What Scott and his Innovation Team are reading?
Influencer:The New Science of Leading Change 
Tribes: We Need You to Lead Us
Meatball Sundae: Is Your Marketing Out of Touch?