My 2012 Edublogs Nominations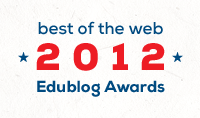 After much thought and consideration I have filled out my Edublogs Nominiations for this year. It goes without saying that I learn so much from these people, and I want to do my part to have them gain recognition.
And the nominations go to….
Good luck everybody. You Matter!