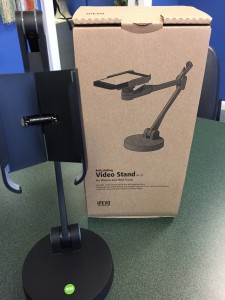 Look what just came in the mail! I was looking for something like this as I try to utilize my iPhone to it's full capacity. Fortunately, the folks at iPevo know design, know educators and are constantly trying to make products to help improve our productivity. This stand allows users to work hands-free if they are watching a video or checking their device. The stand also will provide an easy method for scanning or taking pictures of documents – PAPERLESS!!!!
In addition, the feature that I look forward to most is the steady-cam. Now I can work with teachers and student to video chat or create videos for the school. This will be awesome!
If you get the chance, check out iPevo's site because they have lots of products that are designed to make our lives easier.