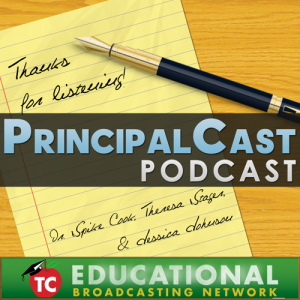 This summer the Principalcast Crew will be continuing the learning process with some of education's greatest minds. We are making a few changes to our schedule. Our Summer recording time will be 8:15 PM EST on Teachercast. Since it is the summer, we are planning to take some Sunday's off to spend with our family.
The Principalcast Podcast is  weekly round table discussion about current topics in educational leadership. The concept was developed by Theresa Stager, who at the time, was a first year principal seeking ways to learn from others. Theresa reached out to Jessica Johnson, and they invited Spike to join. Principalcast began podcasting in September of 2013.
Each week we interview teachers, principals, superintendents, authors and presenters to learn about how to become more effective educators! We are dedicated to being the lead learners in all that we do. During the first year we had 32 episodes that are available on YouTube, Itunes, and at Teachercast.
Make sure to connect with the co-hosts Theresa Stager, Jessica Johnson, Spike Cook, and our producer, Jeff Bradbury!
Check out the schedule below and we look forward to connecting with you!
All Times 8:15 PM EST
July 6 – (Episode 33) Peter DeWitt – Life After the Principalship
July 20 – (Episode 34) Kelly Tenkley Want to start your own school?
July 27 – (Episode 35) Daisy Dyer Duerr Summer Learning Opportunities
August 10 – (Episode 36) Ben Gilpin: #Edcampleadership
August 24 – (Episode 37) Chris Wejr Preparing for the New School Year
August 31 – (Episode 38) Special Mystery Guest (s) Preparing for the New School Year Part 2
Tune into Teachercast to catch all the action. Follow us on Twitter and check out the Principalcast website